Don't have the time,tools or means to get all the mulch you need or plant that landscape you always wanted? Let us deliver your mulch or plant that landscape for you today. We offer delivery of any item purchased at our store and we specialize in front foundation landscape plantings.
Some examples of what we offer delivery and/or planting of:
Click one of the links below to find out more information or call today to talk to one of our friendly team members 502-454-4000.
Want to get that landscape project done around the yard but don't have the ideal vehicle to transport plants and mulch. From items that are too heavy or awkward to transport in your personal vehicle to mulches and soils you simply don't want to put in your car. Frank Otte Nursery offers fast local delivery.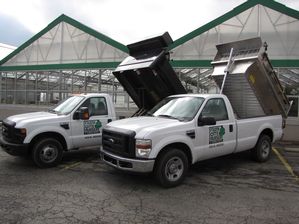 Need mulch and need it now? No need wasting time and making several trips to the store to get enough mulch to complete your project. Simply call us and schedule a delivery over the phone! We gladly take credit card orders over the phone, sorry no cod, so you can stay at home and get the area ready for mulching. Don't know what kind of mulch you want? Just look under the Garden Products tab on the home page and select mulch to see all the varieties we carry. We deliver much more than mulch, we gladly offer delivery service for everything we sell, from our soils and decorative gravel to trees, shrubs and annual flats. That's not even the best part about our delivery service. The best part of our delivery service is the speed in which we get you your purchase. We often can get your delivery out the same day, with the exception of some busy weekends in spring, so you can get that project done and off your list.
Delivered items are placed neatly on or next to a paved surface. Delivery drivers will not drive trucks on or through the yard. Heavy items such as trees will be placed exactly where you want them in the yard. Simply mark spot with a flag provided to you by the store. Bagged items will be stacked on or next to a paved surface, if excessive carrying is needed extra delivery fee may apply. Delivery fees are zip code based. For more information or any questions please call 502-454-4000 and speak to one of our friendly team members. Call today to schedule your delivery.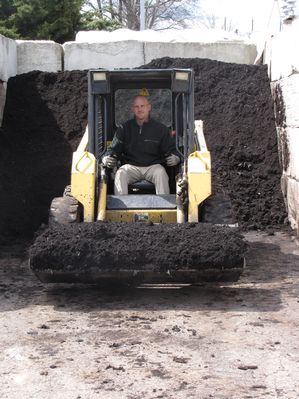 We offer 2 kinds of bulk mulch for delivery as well as bulk top soil. Minimum 4 scoops for delivery. Delivery rates are zip code based. We are happy to take orders over that phone with credit card, sorry no COD. Call today to schedule you delivery 454-4000!
One scoop of any of our bulk mulch covers 75-100 Sq. Ft. approximately 2 inches deep. One scoop is equivalent to 10-12 bags of mulch. We offer bulk mulch in 2 varieties: brown hardwood and black hardwood. We also offer bulk topsoil by the scoop.
Before you start mulching we recommend you put down a granular weed control to keep weeds from sprouting. Weed granuals will not harm existing plants they only work on seeds. We recommend weed control granuals instead of weed fabric for all mulch applications except for gravel.
We dump mulches and top soil on paved surfaces we do not drive in or through yards. Dump sites need to be as flat as possible to insure safety of dump. We recommend putting down a tarp where you would like mulch/topsoil dumped to cover it incase you do not get it all put down in one day. Although we have a minimum of 4 scoops for delivery we have they ability to bring up to 8 scoops of topsoil and 12 scoops of mulch. If you need more there will be an additional delivery fee. For anymore questions or to schedule your delivery please call 502-454-4000.
Come Pick it Up.
Don't need quite the much mulch? If you have a pick-up truck you can pick up the mulch or topsoil yourself. We will gladly load your truck for you. We sell mulch and topsoil by the scoop, sorry we don't do half scoops.
Plant Installation & Light Landscaping
We understand that not everyone has the time, tools, or means necessary to plant, so we offer landscaping service for items purchased at our location. From individual trees to front foundations our certified staff will install your purchase and go over care instructions to ensure the growth and development of your plants.
For single tree plantings simply come in and we will help you pick out the best tree for your location then we will give you a flag to mark the spot in your yard where the tree is to be planted. Then our experienced staff will come out and plant your tree with all the necessary material to ensure it gets off to a good start. All you will need to do is take care of regular watering (we recommend tree gators) and regular feeding (we recommend plant-tone for most deciduous trees and holly-tone for evergreen trees).
Please keep in mind we specialize in light landscaping and do not get into stone work or large design work. We install foundation plantings purchased from our store as well as making screens or hedges.
Want to do the planting yourself but don't know where to get started? Take some pictures of the area you are thinking about landscaping, get an idea of how much sun the area does or does not get, and what the soil is like (is it clay, sand, loam, etc…). Then come in and we will not only help you find the right plants but make sure you get everything else you need to maintain a healthy landscape.